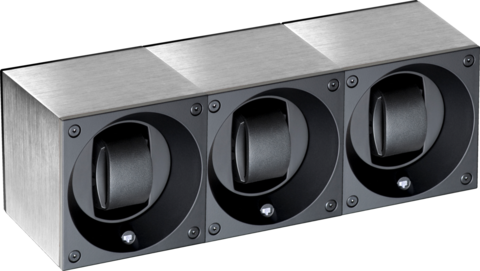 All
Masterbox
Masterbox Aluminum Trio Brushed Aluminium
$2,470.00
As the most prestigious brands in the Swiss watch industry know, even a simple automatic watch should not stop. So they recommend Swiss Kubik or borrow its technology to implement it in their own packaging. In essence, and despite the many advances in the quality of oils or materials, the question of caliber lubrication has occupied the creativity and ingenuity of watchmakers for more than 200 years.
Mechanical watches with automatic winding are everywhere. On your wrists, in your own drawers or those of your surroundings, sometimes even in the bank vaults. The Swiss Kubik, beyond its usefulness in terms of the care given to an automatic timepiece, is suitable for all types of interior design. Its sides, totally inspired by the most universal standards of purity, are available for both chameleonic approaches and advanced customizations. And why not one or more personal messages, which is very welcome in these times when the frenzy of presents occupies our agendas.
TECHNICAL SPECIFICATIONS
Made in Switzerland
3 years international warranty
Powered by 2 standard "C-type" alkaline batteries with a lifespan of 3 years in steady opeation.
Dimensions: 3.9 x 3.9 x 11.7 in
Stops in a vertical position
Startbox Collection
— Power of
Simplicity
Acidulous, sober, bright or fun, the watch winders of the Startbox range use fresh colours and modern, refined lines. Simplified to the extreme, these watch winders bring together the essential elements of our expertise. Their Soft Touch surface gives them an unbelievable smoothness to the touch.
choosing a selection results in a full page refresh